Choosing the Right Charter Bus for Your Group
Traveling with a group isn't just about reaching the destination – it's also about the experience. You want to enjoy every minute of your trip and make memorable moments with your friends, family, or business partners. The best way to do that is to leave the stress of driving and navigation to a professional. Besides being highly convenient, renting a bus charter is very safe. However, choosing the right charter bus for your group comes with its fair share of considerations. So, it's important to choose a bus type that accommodates everyone in your group and stays in budget.
Selecting a Suitable Charter Bus 
Don't just go with the first charter bus service you come across – do thorough research first. To get the best services, you need to go for a reputable charter bus company, like Chesapeake Charter in Maryland. In addition to our first-class customer service, we have a fleet of modern, well-maintained charter buses to suit every group and budget. Learn more about our fleet below:
Best for a Group of up to 56 Passengers: Modern Motorcoach
From city trips to long-distance travels, a motorcoach is the go-to travel companion for large groups. To make your travels enjoyable and comfortable, our coaches come with a range of amenities, including: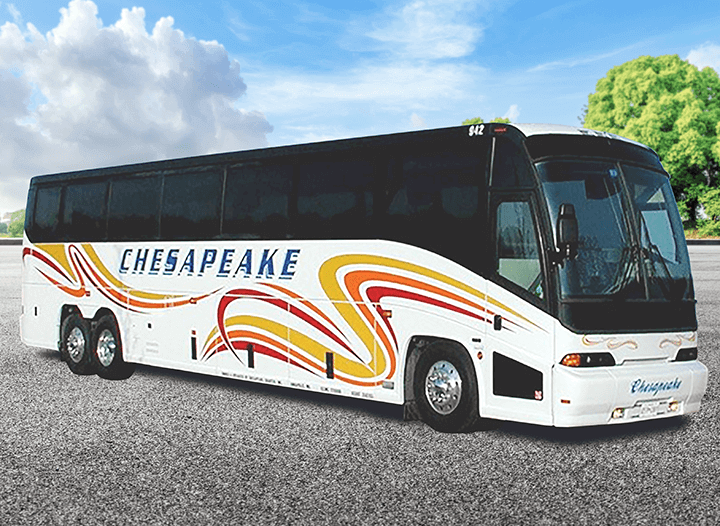 Restroom facilities
Entertainment systems
Soft reclining seats
Footrests
Luggage bay
Climate control
Power outlets
Eating and drinking trays
Chesapeake Charter's motorcoaches are great for a number of group trips including weddings, corporate trips, family reunions, concerts, and sporting events. Not to mention, on top of these great features, you will be served by courteous and professional uniformed drivers.
Best for School Field Trips: 44-Passenger School Bus

Educational field trips help students broaden their wealth of knowledge outside the confines of a classroom. They're also instrumental at providing a hands-on experience that may help shape a student's future. Whether you're taking your kindergarten class to the Annapolis Maritime Museum or a group of high schoolers to the Maryland Science Center, you can always trust Chesapeake for top-notch charter bus services.
Safety is always our top priority when transporting kids, and that's why we only use professional and experienced drivers. What's more, we're proud members of the National School Transportation Association (NSTA). That means our facilities, vehicles, and equipment go through regular, thorough, and mandatory inspections for the safety of our children.
Our field trip buses come with public address systems to help teachers give instructions easily and clearly during the trip. They also feature AM/FM radio to keep your kids cheerful and entertained.
Best for a Group of up 14 Passengers: Mini Motorcoach

For a smaller group, our mini motorcoaches are your best bet. Spacious and comfortable, they are perfect for bachelor/bachelorette parties, holiday parties, small business trips, and other shorter trips around Maryland.
Charter a Bus with Chesapeake Charter
With the guide above, Chesapeake Charter makes it simple to choose a suitable bus that fully caters to your group traveling needs. Keep in mind, for even larger groups, you can rent several charter buses.
Even more, we can help you plan the timing, trip distance, routes, and the number of vehicles you might need. If you find you need any additions to your charter, speak to one of our friendly representatives – we'll be happy to help you out. So, plan your group trip the right way with Chesapeake Charter. Request a quote for one of our modern charter buses.