How to Pack for Your Holiday Travels
It's that time of year again when you and millions of others travel for the holidays. Needless to say, there may be traffic and delayed transportation, but before that comes the tedious act of packing. Depending on how you travel (by car, bus, airplane, etc.), you must also adhere to any specific rules for how to pack. Then, of course, there is always the hope that you do not forget anything important. That overwhelming feeling may have started after you procrastinated so long before packing. But, the good news is that there are various methods to save time, space, and money while packing. So, read on to learn how to pack for your holiday travels and keep that jolly mood intact.
Top 5 Holiday Packing Tips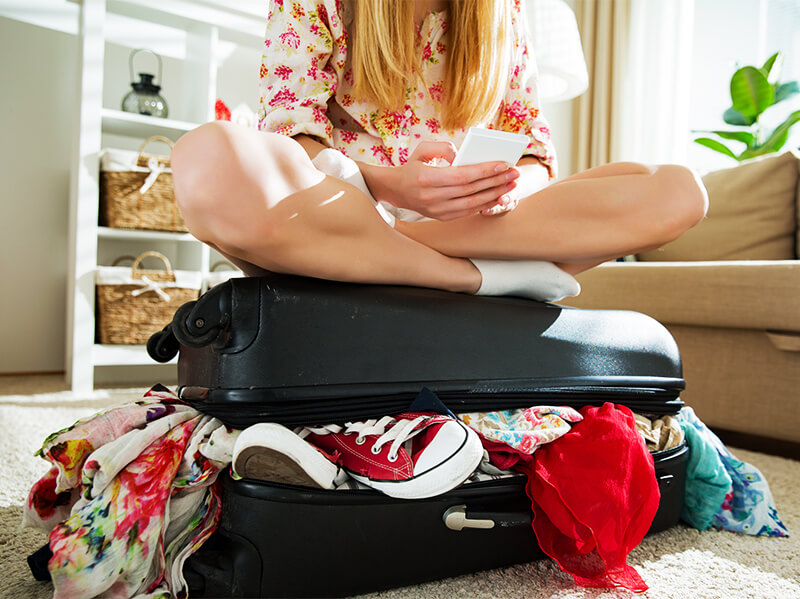 The holiday season is filled with festive activities and plans with family and friends you might not get to see all year. So this season, take the stress out of your festive fun with these simple packing tips.
1. How are you traveling?
Consider any luggage rules if you plan to travel by public transportation, such as a Chesapeake Charter bus. For example, does the bus company only allow a certain number of carry-ons? When planning an extended trip, are there storage facilities or luggage bays for larger suitcases? Gathering all this information beforehand will make your packing plans much more effortless.
2. What should you pack?
Once you have established your means of transportation, you can begin deciding what you need to pack. There is an emphasis on the word "need," especially if you like to overpack for any trip. A helpful example may be to choose travel-size toiletries over full sizes. Or, make a travel packing list and plan your daily outfits for the whole trip. You also don't need that extra pair of shoes, do you? Keep in mind, shoes add excess weight and packing space. So, pack smart and resist the urge to include more than two pairs of shoes in your bag.
3. How do you pack everything?
Figuring out the best way to pack your belongings can be a hassle of epic proportions. Consider this: Will that extra-large suitcase fit anywhere? How can you pack to save space? First, start with the rolling method. Rather than folding clothes when packing, save space and prevent wrinkles by rolling them. Also, remember to roll up your heavier items and place them first in the bottom of your bag.
Additionally, wearing your heavier clothing on travel day and packing small accessories to create different looks is an effective way to save suitcase space. Also, try stuffing your shoes with socks and bulkier items to create more space.
4. Are there any unique gadgets that make packing easier?
There are a variety of technological gadgets available that make life easier on the road. Take the Smart Suitcase, for example. This suitcase reads the overall packed weight, includes a USB connection to charge devices, and even tracks the suitcase's location through your smartphone. With this smart gadget, your phone will never run out of juice. Even more, you'll never have to worry about losing your luggage again. If that doesn't put you in a festive mood, what will?
5. How will you get those souvenirs or gifts home?
When you travel for the holidays, you are likely to receive gifts from loved ones or buy souvenirs while traveling. When packing your keepsakes, you may be able to use that extra space from the rolling method mentioned above. Another practical option may be to ship your items home separately. Check your local post office, FedEx, UPS, etc., to see if this is a reasonable option.
Life Made Easier with Chesapeake Charter
Packing efficiently for your holiday travels can keep you in the holiday spirit well into the new year. Use these simple tips and adjust them to your unique travel needs. The reason for the season is to be with family and friends during the holidays, not stressing about that forgotten electric toothbrush.
Of course, when you ride with Chesapeake Charter, you never have to worry about over-packing or running out of luggage space. Our large-size motorcoach features plenty of overhead storage and luggage bays. Not to mention, a comfortable ride is guaranteed as you ride in style with plush reclining seats with footrests, power outlets, and restroom facilities. So, start planning your holiday trip today and get a quote from Chesapeake Charter online. Or, give us a call at 1-800-304-3001.