4 Field Trip Opportunities for Students in the Time of COVID-19
The COVID-19 pandemic has upended the lives of millions around the world with school closures, social distancing, and countless restrictions. It's a lot to navigate, especially for students and parents. According to the Center for Public Education, children spend about 900 to 1,000 hours per year in school. Now, with remote learning taking the place of in-person classes, that time is being spent at home in front of a screen. Needless to say, socialization and outdoor learning opportunities have taken a backseat. Luckily, there are plenty of ways for students (and parents) to get out of the house and experience a fun, engaging, and educational field trip. All while staying safe and avoiding high-volume places. So, whether it's a simple adventure in the park or a small group trip to DC, check out some field trip ideas for Maryland students below.
1. Visit The Kennedy Center
The Kennedy Center in DC is home to the nation's busiest performing arts center. And, you can now visit some of the indoor and outdoor exhibits safely during the pandemic. Three exhibits are currently open, including The Reach, The JFK Memorial, and Victura Park.
Take the kids for a walk along the Potomac River and visit the John F. Kennedy statue. Or, explore the grounds of the REACH, an extraordinary living theater where guests can engage directly with art. Finally, Victura Park offers a beautiful view of the Potomac where the group can enjoy a midday lunch outside of the River Pavilion.
The center is also following all national and local guidelines for safety. This includes physical distancing, reduced contact points, and employee screening. In addition, face masks will be required, and sanitizing stations are available at all building entrances.
2. Tour Historic Monuments in D.C.

Looking for another fun way to reboot the homeschooling week? Break it up with an outdoor adventure in DC. But don't just take this all on yourself. Get together with a small group of friends or family that might want to do the same. Then take a day trip to see the monuments.
The National Mall is America's most-visited national park and for good reason. According to the American Institute of Architects, you will find half of Americans' top favorite architectural treasures at the National Mall. Here are just a few things you can do while you're there:
Take a stroll towards the Jefferson Memorial, the Washington Monument, and the Lincoln Memorial. Share a bit of history and fun facts with one another as you honor the legacy of America's historic presidents.
Visit the National World War II Memorial and the Vietnam Veterans Memorial. Students can learn and read about the lives of fallen soldiers and write and leave letters to them at the memorial site.
Visit the memorial of Martin Luther King Jr and pay tribute to the life of the best-known leader in the civil rights movement. Students can read one of MLK's infamous speeches or quotes aloud while sharing in his memory.
3. Take a Class at The Maryland Science Center
For the students that share a love of science, take them to The Maryland Science Center in Baltimore. The attraction has recently reopened for limited hours during the pandemic. On Wednesdays, parents and homeschoolers can sign up for hands-on STEM workshop classes in-person (for ages 5-12). In addition, walk-through exhibits, special events, and planetarium showings will be open and available on weekends. For instance, kids can take part in the 'Shapes in the Sky' showing at the planetarium, a walk-in/walk-out program that's touted as "stargazing for beginners".
It's a wonderful opportunity for the kids to see the sky up close without the city lights. Not to mention, they can even make up their own constellation. Simply gather a small group and sign up for a program at any time during a scheduled slot. Moreover, masks are required while visiting the center. And, the science center will also limit their admission to 25% of its capacity during the pandemic.
4. Explore Nature on a Trail Hike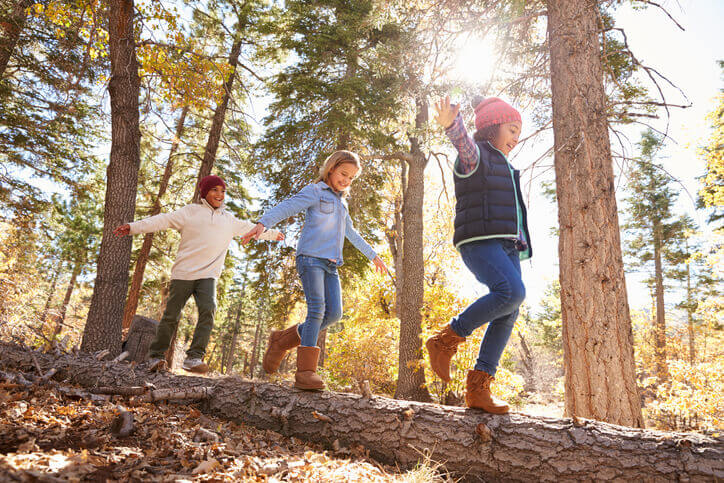 Sometimes a little exercise and a change of scenery are just the ticket to a field trip. If you've been meaning to discover new nature destinations in Maryland, this is the perfect time to go with the kids. And, it can be educational too. Bring along a pair of binoculars and go birdwatching or analyze the types of rocks and trees surrounding the area. Just remember to bring lunch, or some solid snacks, and water to power everyone through the day.
Where to start? Take a trip to Annapolis Rock, a 5-mile trail that makes up a portion of the Appalachian Trail. Or, visit Cascade Falls Loop Trail, an easy-going family-friendly trail in Elkridge, Maryland. Check out 7 of the best hikes in Maryland here.
Plan a Ride with Chesapeake Charter
Got a trip coming up or one on the horizon? As always, you can trust Chesapeake for top-notch charter bus services. For a smaller group, our mini motorcoaches are the perfect choice for a spacious and comfortable ride. Most importantly, safety is always our top priority, and that's why we only use professional and experienced drivers. So, plan your group trip the right way with Chesapeake Charter. Request a quote for one of our modern charter buses. Have any field trip opportunities coming up or fun ideas to share? Let us know.